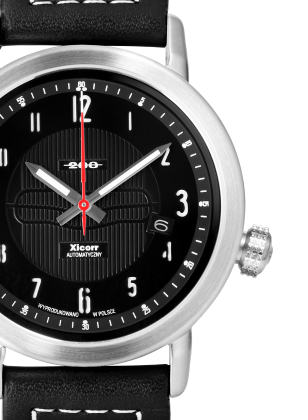 Xicorr 200 is continuation of our moto series.
Warszawa 200 car was the upgraded M20 model. Production started in 1957. Most important changes were:
more powerful engine
some changes in electrical installation
renewed look (new grill, some side moldings, new blinker shape, characteristic arrow on the hood)
The new grill was the biggest inspiration for Xicorr 200. We have placed it on central part of the dial. It is also visible on the caseback. The arrow from the hood we have put on the counterweight of second hand. The number are similiar to used in clock and tacho in the car. The external dial ring is made as a sandwich, the lume is put on the deeper layer.
8 versions available:
black, red, bordeaux,
bicolor versions: black-red and black-bordeaux
limited edition: Black Katie
Last pieces available.
more info about Xicorr 200: