Xicorr Syrena Sport is a watch that continues the line of watches inspired by the Polish automotive industry.
We were captivated by the already cultous Syrea Sport prototype developed by the Department of the General Manager of the Fabryka Samochodów Osobowych in Warsaw's Żerań and presented on May 1, 1960.
The work on the prototype lasted more than three years. The most interesting part of it was the body designed by an engineer Cezary Nawrot and made entirely of plastic. The car was driven by a pre-prototyped boxer engine in which the engine elements of the Junak motorcycle were used.
FSO never envisaged undertaking the production of this car. It was an experimental object mainly aimed at identifying the technology of manufacturing plastic bodies.
The beautiful line of this car impresses motoring fans to this day. On May 30, 1960, the Italian daily "Il Giorno" published an extensive article about Syrena Sport, in which it was named "the most beautiful car from behind the Iron Curtain".
In our watch, we used some of the elements of this beautiful car:
the shape of the cuvette refers to the shape of the car, and the lugs are designed based on the shape of the line of the side decorative slats
on the dial we have references to the shape of the grill - a characteristic brick
the indexes used correspond to those used in the Syrena Sport clocks
the counterweight of the chronograph's second hand is modeled on the shape of the rear slat
the shiny-mat lid refers to the rims, with a characteristic central screw
the shape and perforation of the arms refer to the sport steering wheels used in the 1960s (Syrena Sport had a steering wheel from the standard Syrena, but if it had found its way to production it would have probably got a sports steering wheel with holes on the arms)
chronograph buttons are stylized on the pistons of the engine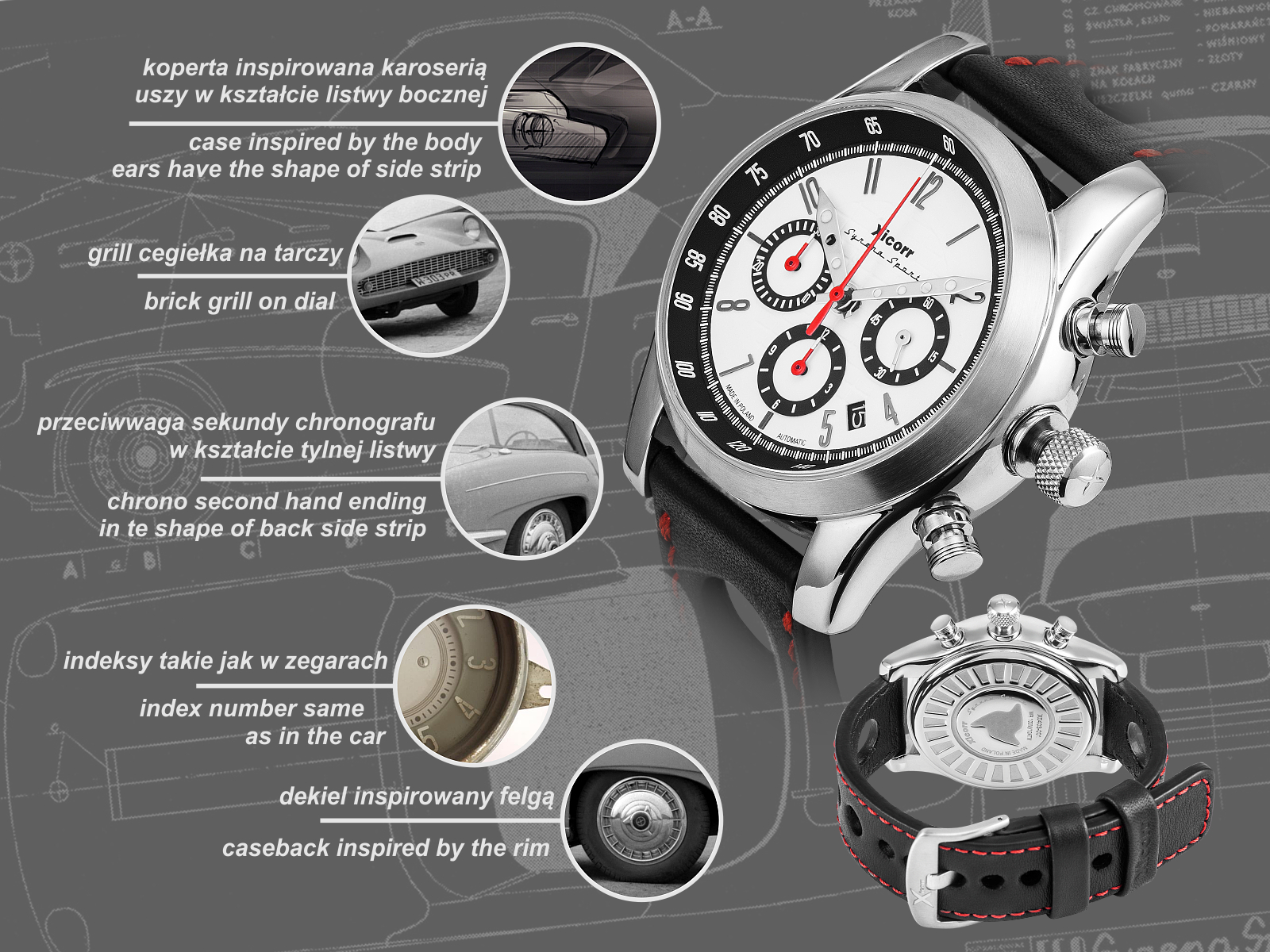 more about Syrena Sport: