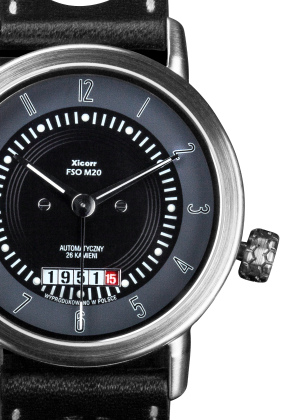 WARSZAWA CAR IN THE WATCH
On November 6th, 1951 the first FSO M20 Warszawa car left the assembly line in the Fabryka Samochodow Osobowych (Passenger Cars Factory) at Zeran in Warsaw. The was based on soviet licence for Pobieda model (GAZ-M20). Warszawa cars continued to be produced until 1973 and 254471 cars left the factory in that period. This iconic car gave us the inspiration to create the Xicorr FSO M20 watch.
Warszawa car has that something which does not allow to remain neutral - a beautiful, timeless line can be enjoyed despite the passage of years. Its dashboard, particularly the speedometer and clock represent quintessential designs of the forties' and fifties'. Our watch is not an exact copy of the clock, but it derives from an original thus gaining authentic character. Great importance has been placed on the details, such as the screws on dial or watch crown in the shape of the tire. The date display is integrated in the odometer (number 1951 in the first part refers of course to the date of manufacture of the first Warszawa car).
Our bestseller. In production since 2012. Over 2500 pieces sold already.
more about Xicorr FSO M20 Warszawa: