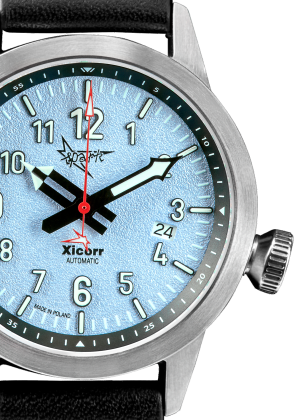 Xicorr spark is our first watch inspired by aviation.
spark… a spark… TS-11 Iskra...
The PZL TS-11 Iskra is a modern Polish jet trainer. The prototype's test flight took place in 1960. Mass production lasted between 1963 and 1987, ending with the production of 424 units of this jet trainer. The propulsion (since 1969) is ensured by a single WSK SO-3 jet engine. The maximum speed of the aircraft is in the range of 720 km/h, and its maximum range reaches up to 1250 kilometers. The aircraft's armament is a single NS-23 or NR-23 cannon with a 23 mm caliber.
Along with the wide introduction of jet aircraft into the Polish aviation, there came the necessity of constructing an adequate training aircraft. The plant responsible for the design and production was WSK "PZL Mielec", and Tadeusz Sołtyk was its main constructor. The new aircraft turned out to be a successful design with quite a good performance, relatively low unreliability, and low exploitation costs. Many versions of this aircraft were created during mass production. The first mass produced version was the Iskra bis-A, still powered by the SO-1 engine. Shortly afterwards, the Iskra bis-B version appeared, and was already a combat and training model with an option of taking suspended armament. The Iskra R version, which was a naval reconnaissance version, as well as the Iskra bis D – a training and combat version – also entered service. A civilian version without any armament was also created and its name was Iskra Jet. Poland and India were the military users of the TS-11 Iskra aircraft. The civilian version of the planes was available e.g. in the USA or the United Kingdom.
The direction indicator, being one of the basic on-board clocks, was a direct inspiration for the watch. The layout of this instrument and how it indicates inspired us. The Xicorr spark is of course our interpretation of this clock.
sierra… papa… alfa… romeo… kilo…
What is distinctive of the watch are its clear, large indices. The hour and five-minute indices are overlapped and filled with a lume. The minute indices are imprint with a lume.
The face is matt with a rough surface. The faces are in military colors.
44 mm case, large and comfortable crown, with elements matching the indices from the face. The Xicorr logo is made of a glowing mass - lume.
more about Xicorr spark: