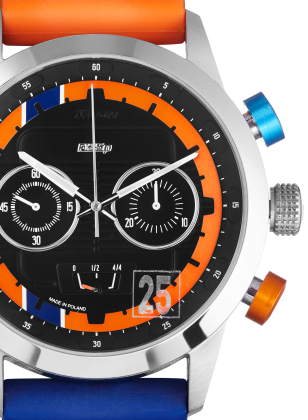 Akropolis Limited Edition will remind 45th Anniversary of 20th Acropolis Rally. This Rally held  in 1972 (25-29 May) in Greece.
Andrzej Jaroszewicz (driver) and Andrzej Szulc (pilot) crew driven polish Fait 125p took first place in their class and 11th place in general classification. Only 12 crews finished this very hard rally (132 crews started).
Limited edition of our watch issued in 125 pieces only. There is special blue-white stripe similar to the one painted on the car. Power reserve hand is orange. On the glass we engraved number 25 (car number). There is special caseback with signatures of crew members.
Sport character is underlined by color chronograph pushers.
There are some extras about the Rally included in the box - detailed car model and special booklet with materials about rally.